Invisalign Clear Aligners – Lawrence, MA
Convenient, Removable Orthodontic Options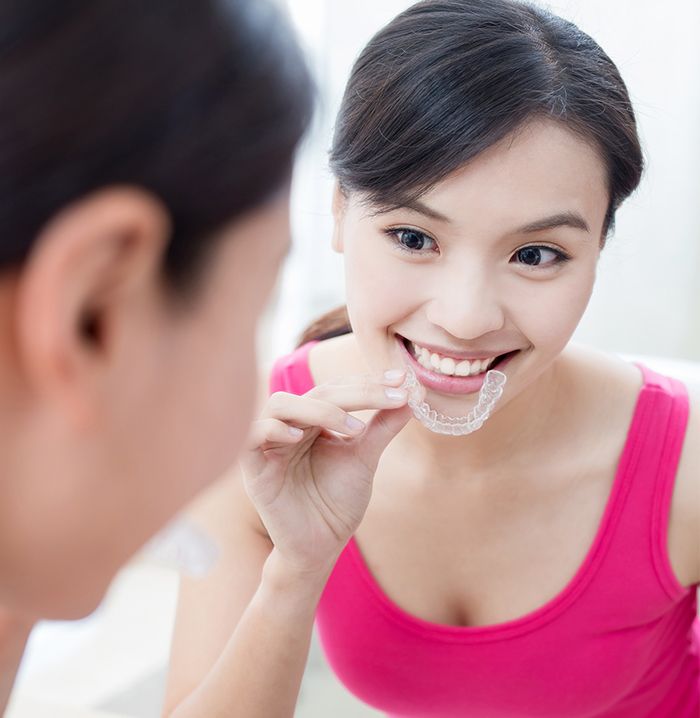 Traditional braces are highly effective, but they also affect your appearance and can get in the way during meals and your oral hygiene routine. If you have less severe orthodontic issues, you can opt for Invisalign as a more image friendly option that also gives you more freedom in general. When you call Super Braces of Lawrence to schedule an orthodontic consultation, don't forget to ask about Invisalign and whether it's suitable for your unique grin!
How Does Treatment Work?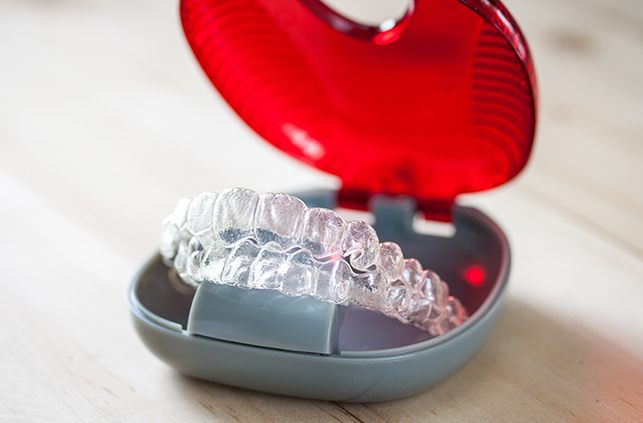 You'll be given a series of clear trays that were designed based on impressions of your mouth as it is now. Each tray needs to be worn for around two weeks for at least 20 to 22 hours every day; during this time, your teeth will shift closer to their ideal position. Once you're done with your trays, you'll wear a retainer so that a relapse doesn't occur. You don't need to visit our orthodontic office as often as you would for braces; you'll be given all of the necessary trays up front, so you only have to return periodically so that we can make sure the treatment is going as planned.
What Can I Expect from Treatment?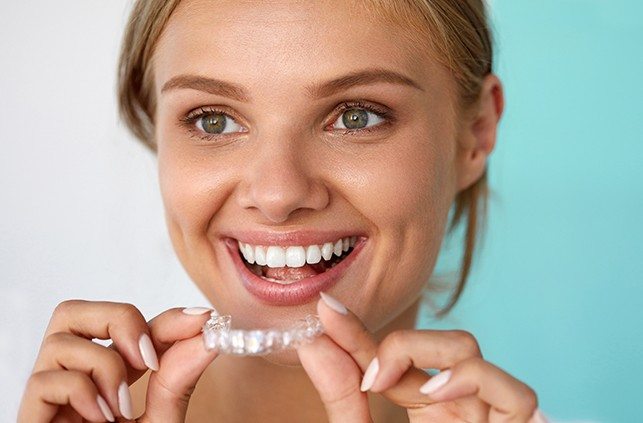 While Invisalign trays are removable, they absolutely need to be worn for a specific amount of time each day to make the necessary changes. If they don't stay in your mouth long enough, they won't be able to exert the amount of pressure needed to move the teeth into their new and improved position. You can take your aligners out during meals, letting you eat whatever you want. You'll also be able to brush and floss like you normally would, so there's no need to change your oral health habits. Don't forget to clean and rinse your aligners on a regular basis and store them safely whenever you're not wearing them.
Am I A Candidate for Invisalign?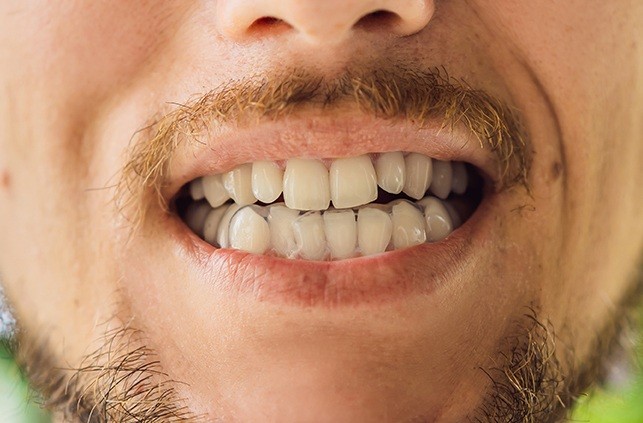 Invisalign can make many of the same corrections as braces, but it's not usually suited for the most severe cases of misalignment or bites that are too uneven. It also doesn't work as well on the back teeth. That said, if you have mild to moderate corrections to make and have a full set of permanent teeth, you could be a potential candidate. We generally recommend Invisalign to teens and adults. Children are less suitable because their teeth are still developing, and they often lack the discipline to leave their trays in place for the required 22 hours a day. We can discuss the different factors during your appointment.
While Invisalign is ideal for resolving a number of issues, it is not intended for those with severe cases of misalignment or a significantly uneven bite. If you need to address back teeth, it also won't be as effective as traditional braces. We also recommend Invisalign treatment to those whose permanent teeth have fully erupted. While the treatment is great for teenagers, we do not recommend it for younger patients whose teeth are still developing and growing. Furthermore, if you cannot wear the aligners for at least 22 hours per day you might be better off pursuing more traditional methods.
Invisalign FAQs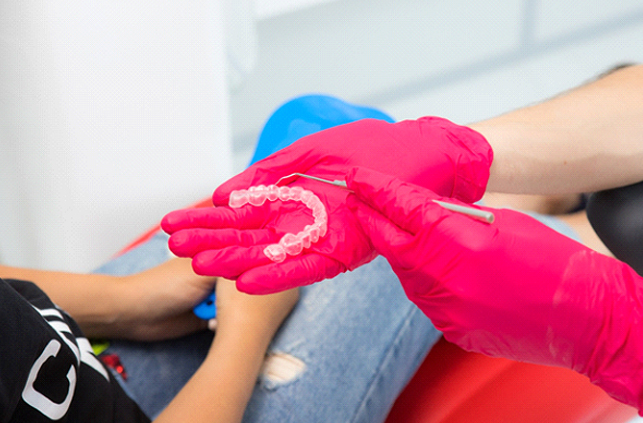 While the above information answers some of the most popular questions we hear from patients, it's completely natural to have a few more on your mind. If you'd like to speak directly with our orthodontist in Lawrence, then don't hesitate to schedule your initial consultation. On the other hand, if you'd like to continue doing your research online, then keep reading!
Will Invisalign Affect My Speech?
To form words, your tongue makes a series of specific movements against the back of your teeth. So, it is possible for the addition of your Invisalign trays to affect your speech. Fortunately, this adjustment period is typically short-lived and there are a few things you can do to speed up the process. To start, try reading a magazine or book aloud. Next, repeat the more difficult words (like "sixty") repeatedly. Lastly, be patient with yourself and take it slow. Before you know it, your speaking patterns will be back to normal!
Does Getting Invisalign Hurt?
Since your aligners are customized, they are significantly less likely to irritate the soft tissue in your mouth. Plus, the edges can be smoothed down, ensuring comfortable wear. With that being said, some level of discomfort is to be expected with any kind of orthodontic treatment. After all, the trays are applying enough pressure to gradually guide your teeth into an entirely new position. The good news is that sticking to soft foods, using a cold compress, and taking OTC pain medication can minimize soreness in the hours/days following your transition to a new set of trays.
How Do I Care for My Invisalign Aligners?
Caring for each of your aligners is crucial. Otherwise, they will become discolored and warped, leaving them yellow and useless. To avoid that, make sure to rinse them with clean, running water when you take them out of your mouth and before you put them back in. The water should be lukewarm, not hot, to preserve the proper shape. You should also clean them daily with Invisalign-friendly products to keep them free of food particles and other debris.
Can I Eat and Drink with My Aligners?
In short, the answer is no. Eating and drinking with your aligners in leaves them vulnerable to chips and cracks. Not to mention that the food and beverages can stain your trays. As a result, they will become less and less discreet over time. Therefore, the only thing you can consume with your aligners in is water.
One of My Aligners Broke – What Should I Do?
If you have Invisalign in Lawrence and one of your aligners break, it's important to get in touch with our team right away. Otherwise, your teeth will begin to shift back into their previous position, necessitating "backtracking" treatment. Once our orthodontist has a better understanding of where you are in your treatment timeline, they will advise you on the next best steps to take. For example, you may be asked to wear your previous set of trays until your new one is ready.