Traditional Braces – Lawrence, MA
Effective Treatment for the Most Crooked Smiles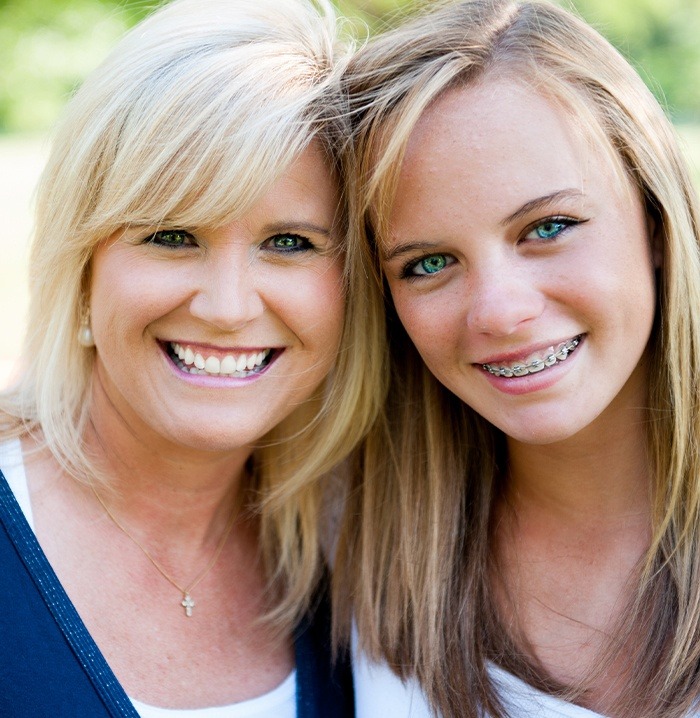 There are more orthodontic options available today than ever before, yet traditional braces remain the standard for realigning crooked teeth, adjusting jaws, and correcting uneven bites. Super Braces of Lawrence is proud to help Lawrence families and individuals overcome the challenges of crooked teeth and prevent small problems from turning into larger ones. Contact us today to schedule an orthodontic consultation to see if traditional braces in our Lawrence, MA orthodontic office are the right choice for you or your children; we are ready to treat even the most severe cases of misalignment as well as underbite.
What Can I Expect from Traditional Metal Braces?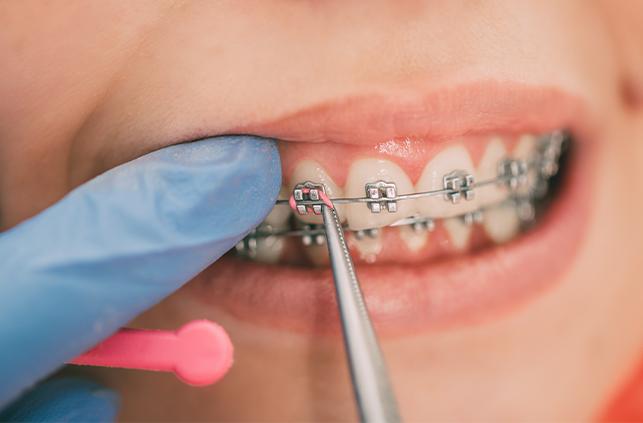 The first step is a no-cost consultation to examine your mouth and figure out what kind of issues we'll need to address. In some cases, we can begin your treatment plan on the same day, but if not, at your next appointment we'll place the brackets and archwire on your teeth. The brackets are held in place by a small amount of bonding material that is applied to the enamel once we've made sure that the surface is completely dry. Afterwards, the archwire is gently threaded through the brackets and trimmed so that it doesn't poke your gums. A series of bands wrapped around the brackets will hold the wire in place; we'll let you pick the color of the bands to create a smile you're happy with.
How Long Does Treatment Take?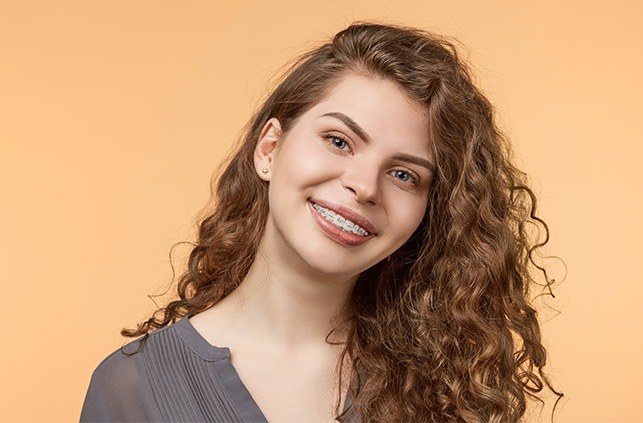 The answer to this question will differ slightly for everyone. Severe or complex orthodontic problems naturally take more time to correct, and the amount of room available for the teeth to shift also needs to be considered. It's important to take good care of your teeth and to follow our instructions carefully for the duration of the treatment. Most of the time, you'll wear braces for one to three years, and afterward you'll need a retainer for up to 12 months so that your teeth don't end up returning to their original positions and undoing all of your hard work!
Are Traditional Braces for Me?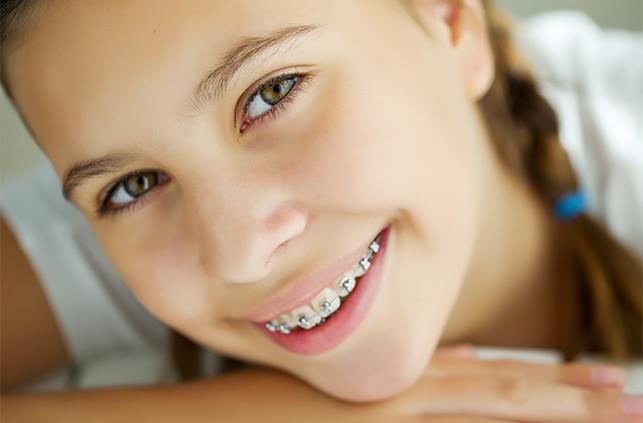 Traditional braces are considered the best solution for severe cases of misaligned teeth, uneven bites and rotated teeth. A different form of treatment might be viable if only mild to moderate corrections are needed. Before we can determine if you or your child truly need braces, Dr. Leila will perform a detailed examination of the teeth and jaws. Based on the results of this examination, we'll give you a recommendation that both addresses your oral health needs and accounts for your personal preferences and unique lifestyle. Call us today to set up your first consultation and begin the orthodontic process.
Understanding the Cost of Traditional Braces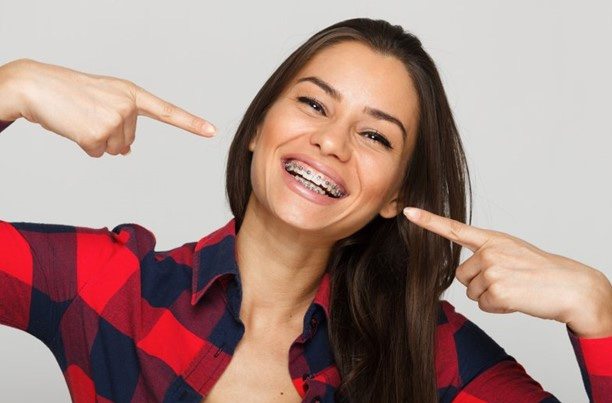 The total cost of traditional braces depends on the specifics of your treatment; for example, wearing braces for just one year will be less expensive than for multiple years. During your consultation, our team will be able to evaluate your situation and provide you with an estimate of the overall cost of your personalized treatment. In the meantime, continue reading below to learn a little more about what influences the cost of traditional braces in Lawrence.
Factors That Affect the Cost of Traditional Braces
There are many factors that can influence the total cost of braces, including:
The severity of your misalignment: This affects treatment length as well as the type of accessories needed and is the most significant contributing factor to the overall price of braces.
Age: Adults' teeth tend to move more slowly than those of teenagers, which can make treatment complex and slightly more costly.
The number of appointments needed: Braces must be adjusted intermittently throughout the treatment process. The frequency of these visits can impact the total cost of your care.
Compliance with treatment guidelines: Neglecting to wear your elastics, eating food that damages your braces, or even poor oral hygiene can delay your treatment and incur extra expenses.
Professional Braces vs. "DIY" Braces: Which Costs More?
Perhaps you've seen reports on social media about people who prefer to create their own "braces" using household items like fishing line, Super Glue, paperclips and more. Even though these DIY solutions might seem cheaper and more convenient, it's important to remember that rearranging your teeth is a complex process. Without expert supervision, you could inadvertently cause irreversible damage to your smile, requiring even more expensive treatment to fix later on! In the end, it's always wiser to receive care from a professional.
Does Dental Insurance Cover Braces?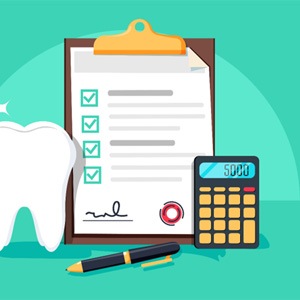 If you're fortunate enough to have dental insurance, you should know that many policies include at least partial coverage for traditional braces. They're more likely to be covered if needed for medical reasons, such as jaw misalignment, rather than just to correct aesthetic issues. Additionally, some plans may only cover braces for patients who are under the age of 18. When you come in for your initial consultation, our team can take a look at your plan to confirm your coverage and let you know how much you can expect to pay!
Options for Making Braces Affordable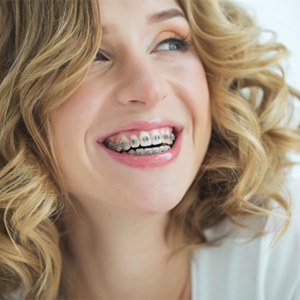 If you don't have insurance coverage for braces, you aren't entirely out of luck when it comes to lowering the cost of treatment. We're thrilled to offer financing through LendingPoint , which will allow you to pay for your treatment in manageable installments with little-to-no interest.
To learn more about the cost of traditional braces, don't hesitate to contact our team today for additional information or to schedule your consultation.
Traditional Braces FAQs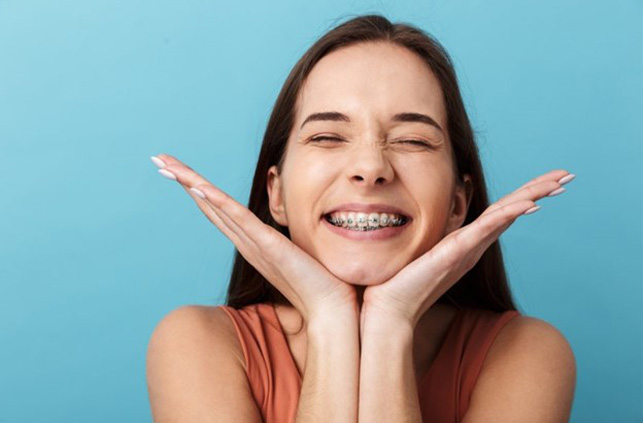 Braces have been a tried-and-true orthodontic solution for quite some time, and the metal brackets and wires have assisted countless generations of patients with achieving straighter and healthier pearly whites. But still, some patients find themselves having doubts and asking questions about the treatment that prevents them from comfortably committing to it. That's why our team here at Super Braces of Lawrence has gathered some of the most frequently asked questions that we receive about braces so that you can inform yourself and prepare yourself for your orthodontic journey. If you have any additional questions about braces or you'd like to arrange a consultation, feel free to contact our team today!
How Long Do Traditional Braces Take?
The bottom line is that the timeline for traditional braces can vary greatly from patient to patient; everyone's teeth move differently, and some of us have particularly stubborn pearly whites! That said, traditional braces often take anywhere from one to three years to work their magic, but there are a few factors to consider:
The patient's age – Typically, children's teeth are quicker to realign since they're not as firmly set in the jaw compared to adults.
The severity of the misalignment – If teeth need to be moved further to achieve optimal positioning, treatment will likely take longer.
The patient's compliance with treatment guidelines – Sometimes a patient will need to wear rubber bands during treatment, or a retainer afterward; in any case, failing to comply with your treatment guidelines can cause setbacks.
Do Traditional Braces Hurt?
It's normal for patients to experience some soreness affecting their teeth and gums upon receiving their braces, but this usually only lasts for about a week. It can also be managed with over-the-counter pain relievers and cold compresses/ice packs, but even after you're used to your braces, you still might feel some discomfort from time to time, especially after adjustment appointments. In some cases, your braces could also rub against the soft tissues of your mouth, but orthodontic wax can be used to counteract this.
Can You Whiten Your Teeth While Wearing Braces?
Generally, it's recommended that you wait until after you've finished your orthodontic treatment to undergo teeth whitening. Bleaching solutions have trouble accessing the areas of teeth that are covered by the brackets, and as a result, it can lead to uneven shades across multiple teeth. It's also not feasible to wear whitening trays and strips over teeth that are wearing braces. However, it's still worth mentioning that whitening toothpastes and mouthwashes are generally fine to use, if even their results aren't always the most dramatic.
What Can You Not Eat with Traditional Braces?
Braces are well-known for being accompanied by dietary restrictions that need to be followed very closely. Upon getting your braces, you'll need to avoid hard and crunchy foods for the first several days and stick to soft foods only, since your teeth will likely be sensitive. Some great ideas include things like yogurt, pudding, smoothies, soups and many other options. That said, be mindful of the following items, as they might damage your braces:
Popcorn and hard nuts
Sticky, chewy or particularly hard candies
Tough loaves of bread, granola bars, pretzels, taco shells, chips and other similar items
Ice cubes