Orthodontic No-No Food List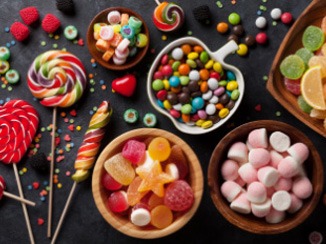 Our goal is to provide you with a beautiful healthy smile. This can best be accomplished if your braces stay attached to your teeth. You need to be careful about what kinds of foods you eat as some hard or sticky food can be trouble.
CARAMEL CANDY, GUM OF ANY TYPE, STICKY CHEWY CANDY…
Sticky substance pulls off wires, brackets and feeds the bacteria in your mouth.
Pizza Crust…
The hard crust bends wires.
HARD PRETZELS…
Bend wires, loosen bands, and knocks off brackets.
CHIPS…
Will form a hard ball and break your braces.
HARD ROLLS, BAGELS…
Bend the wires and knock off brackets.
BEEF JERKY, SLIM JIMS…
Are very tough and will break off brackets.
NUTS…
Stay away from all nuts such as pecans, peanuts, cashews and walnuts.
RAW CARROTS OR HARD VEGETABLES…
Make sure you shred, slice or dice them.
POPCORN…
The little shells and kernels can get caught between the gum and bands teeth causing brackets to break off.
GATORADE, POWERADE, SPORTS DRINKS, SODAS…
Has lots of sugar, which detach brackets, or break brackets and will cause you to have a longer treatment time.
ICE, FINGERNAILS, PENS AND PENCILS…
Avoid putting them in your mouth they will break everything.