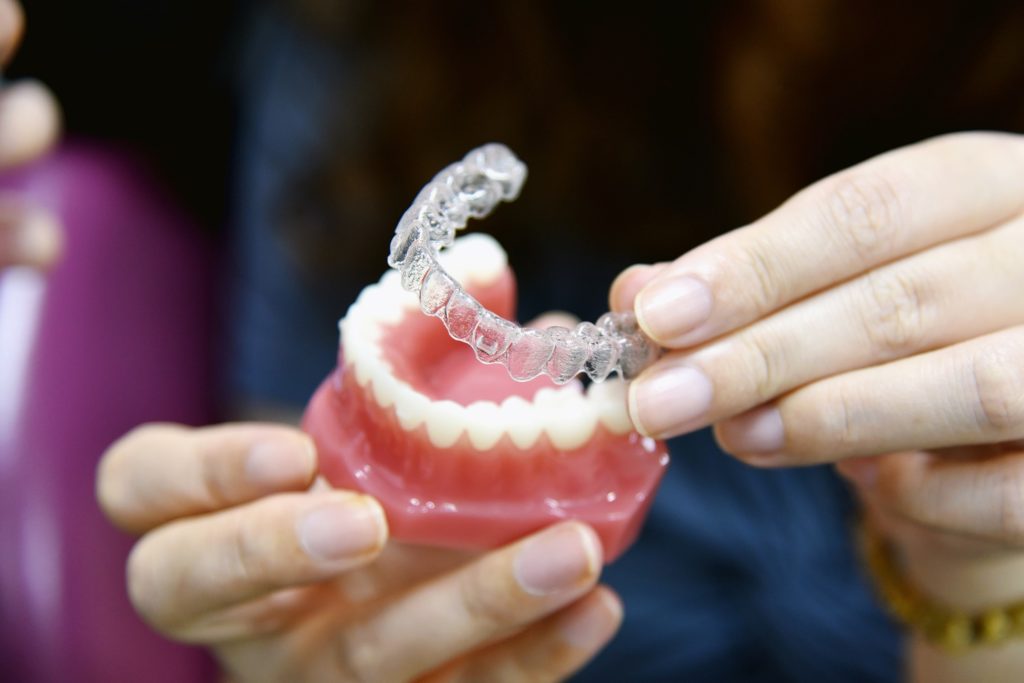 When you start your Invisalign treatment, your orthodontist will provide you with specifics, like the timeline, the cost, and how many trays you'll need. Of course, that's all subject to change if you fall off-track with your original treatment plan. To prevent that from happening, keep reading to learn all about the Invisalign don'ts.
#1. Don't Forget the 22-Hour a Day Wear Time
Remember, your trays are only exerting pressure on your teeth when they are in your mouth. That's why you need to wear them for 22 hours a day! The best way to meet this wear time is to create a routine where you have 15 minutes for breakfast, 30 minutes for lunch, and 45 minutes for dinner. The remainder of the time can be used to complete your oral hygiene regimen.
#2. Don't Rinse Your Trays with Warm Water
Rinsing your trays anytime you remove them is important – it helps keep them free of food particles and other debris. Just be sure to use lukewarm water. Hot water can warp their shape, compromising your treatment in the process.
#3. Don't Forget to Care for Your Teeth
Although your clear aligners cover your teeth, they won't protect them from cavities. In fact, if you don't care for your teeth properly, the trays can trap bacteria and food particles against them, increasing your chances of developing tooth decay. So, make sure to brush after each meal and floss consistently.
#4. Don't Misplace Your Trays
One of the quickest ways to fall off-track with your treatment plan is by misplacing them. This most often happens when they are left out in the open or are wrapped in a napkin during your meal. The good news is that you can help prevent that from happening by storing them in their designated case anytime they are out of your mouth. Make sure to also keep them in the same place each time, like a specific pocket in your purse.
#5. Don't Ignore Your Orthodontist's Instructions
Oftentimes, patients follow their orthodontist's instructions to a tee at the beginning, but then their motivation fades over time. However, it's of the utmost importance that you don't eat or drink anything other than water with them in. You also need to be mindful of switching to the next set of trays on the right day. If you have difficulty with this, consider setting a reminder on your phone or getting the Invisalign app. Lastly, make sure to keep up with the check-in appointments. These routine visits allow your orthodontist to monitor your progress, make adjustments as needed, and answer any questions you have.
After investing your valuable time and money on Invisalign, the last thing you want to do is fall off-track. The good news is that if you keep the above information in mind, you probably won't!
About the Practice
With a name like Super Braces, you can expect super treatment at each and every turn. Our talented smile enthusiasts love sharing all of their expertise when it comes to life with braces, including how to avoid falling off-track! If you have a question about the dos and don'ts of Invisalign or you'd like to schedule an appointment, don't hesitate to visit our website or call (978) 794-0000.