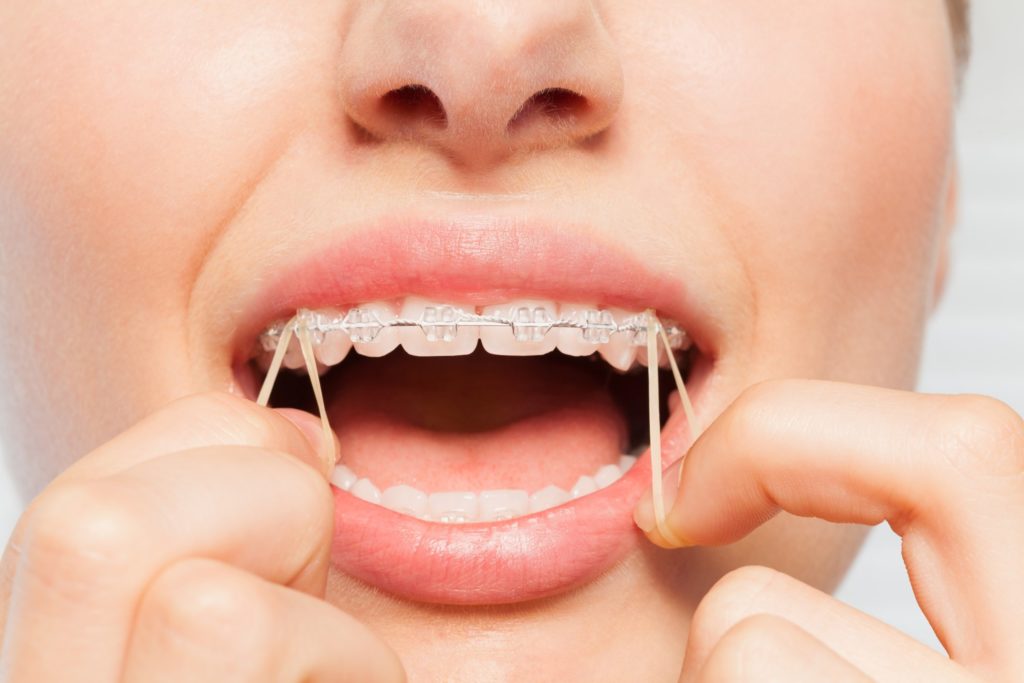 As a tried-and-true teeth-straightening solution, many patients are aware that correcting their misaligned teeth with traditional braces entails wearing metal brackets and wires. While this state-of-the-art technology can effectively guide your teeth into their properly aligned positions, sometimes additional accessories are needed, like rubber bands. To learn about the role of rubber bands on braces and how to maintain yours properly, read on!
So, Why Do You Have to Wear Rubber Bands on Your Braces?
There are actually two roles for rubber bands on braces! The first type, ligatures, effectively hold the archwire in place by wrapping around each individual bracket. They stay in place at all times and come in a variety of colors. The second type, referred to as elastics, is removable and designed to address bite problems, including overbites and underbites. While both are unique in function, each type plays a crucial role in providing you with the straight teeth and properly aligned bite you deserve.
6 Dos and Don'ts to Follow with Rubber Bands
Since elastics are removable, their effectiveness will rely solely on you following your orthodontist's instructions. Although directions will vary depending on your unique dental needs and smile goals, here are a few dos and don'ts you should follow:
Do wear them for 23 hours a day. Basically, the only time you should remove them is when you're eating, brushing, or flossing.
Don't take the rubber bands off if your teeth are sore. Each time you remove your elastics for prolonged periods of time, you start the adjustment period all over again.
Do keep extra rubber bands on hand. In case you lose your current set or they snap, you'll want another pair ready to stay on track with your treatment timeline.
Don't stretch them out when putting them on. To effectively correct your bite, they should be tight enough to exert the proper amount of pressure.
Do call your orthodontist if you're running low. If you've used up all your rubber bands, get in touch with your orthodontist so you can get more.
Don't use any other types of rubber bands. The rubber bands given to you by your orthodontist are safe and effective, unlike household ones.
Rubber bands may be small in size, but they play an instrumental role in creating your dream smile. So, make sure to follow all of your orthodontist's instructions regarding wear time and abide by the above list of dos and don'ts!
About the Author
Dr. Leila Nezakatgoo's journey to becoming the trusted, skilled, friendly orthodontist she is today began at the Boston University Goldman School of Dental Medicine. After graduating, she pursued her certificate of orthodontics from Howard University. Today, she has more than 15 years of experience and is an active member of the American Academy of Orthodontists and SPEAR Education! If you want to learn more about the function of rubber bands or need to schedule an appointment, visit our website or call 978-794-0000.