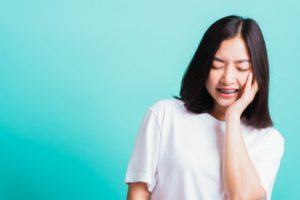 Before starting your treatment, you probably knew that braces would change a lot about your everyday life. While you prepared to adjust how you brushed, flossed, and ate, you didn't prepare for how braces would change your gums! Sometimes, orthodontic treatment like traditional braces can cause swollen gums, but thankfully, there's generally nothing to worry about. Here's why you may experience swollen gums with braces and what you can do to keep your smile healthy and comfortable while it's being straightened.
Why Gums Can Become Swollen with Braces
Swelling in the gum tissue during an orthodontic treatment can be caused by a few different things, such as:
Poor oral hygiene: It's no secret that brushing and flossing are challenging with braces. However, if you don't practice great oral hygiene, the plaque and bacteria buildup can irritate your gums and potentially even infect them, both of which cause swelling.
Movement of teeth: Gum inflammation is a natural reaction to having your teeth moved.
Underlying health conditions: Health issues like diabetes and obesity can put you at a higher risk of swelling gums while wearing braces.
Your Straightened Smile Needs Healthy Gums
People put a lot of focus on their teeth when it comes to improving their smiles, which means that the gums are often overlooked. However, maintaining healthy gums and managing swollen gums with braces are just as important for your new smile! Unhealthy, inflamed gums are at a much higher risk of developing gum disease, which is a serious oral health issue. If left untreated, it can cause receding gums, tooth loss, and even increase your chances of heart disease. So, while you focus on straightening your teeth to get the smile of your dreams, don't forget to take care of your gums to help your smile last!
What to Do About Swollen Gums with Braces
Thankfully, there are plenty of ways you can prevent and treat your swollen gums from home while wearing braces. At home, you can try:
Practicing thorough oral hygiene, including brushing and flossing
Rinsing with an antiseptic mouthwash or warm saltwater several times a day
Taking an OTC anti-inflammatory medication as directed on the label
Avoiding or limiting your intake of spicy, hot, acidic, or carbonated foods and drinks
Using specialized tools such as a water pick or orthodontic flosser
If you're still having trouble managing your swollen gums after trying the above tips, don't hesitate to contact your orthodontist. They'll be able to inspect your gums, determine what the root problem is, and what can be done to get your healthy smile back on track.
About the Practice
Dr. Leila Nezakatgoo has over 15 years of experience helping patients of all ages achieve and maintain optimal oral health. She and her talented team at Super Braces of Lawrence are proud to offer a wide variety of all the latest orthodontic treatments alongside a state-of-the-art office. Throughout your treatment, they'll be with you every step of the way to ensure the process goes as smoothly, efficiently, and pleasantly as possible. If you're concerned about swelling gums with braces, don't hesitate to contact us online or at (978) 794-0000.