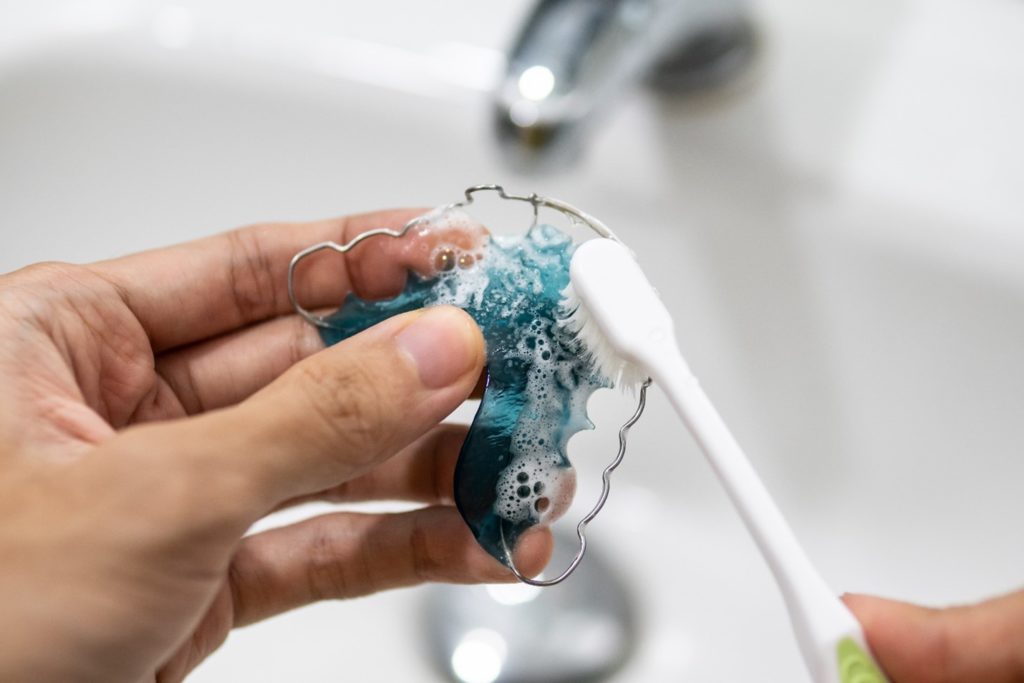 Did you recently wrap up your orthodontic treatment? Congratulations! Whether it's only been a few hours or it's already been a few weeks, you may still be having a hard time not glancing at your beautiful new smile any chance you can. To ensure your teeth stay in their perfectly aligned positions both now and for years to come, it's of the utmost importance that you wear your retainer. To keep it in pristine condition, here are five must-know tips.
#1. Always Take Your Retainer Out Before You Eat
If you are out at a restaurant or over at your friend's house, you may be a little self-conscious about taking out your retainer. However, under no circumstances should you keep them in while you eat. This can warp their shape, rendering them virtually useless. Therefore, it's best to always excuse yourself to the restroom right before your meal to take them out of your mouth and rinse them off.
#2. Keep Them in a Storage Case When Not in Use
At first, you will be asked to wear your retainers constantly (except for when you're eating or completing your oral hygiene routine). When they aren't in use, make sure to keep them in their designated storage case. This will keep them safe while decreasing their chances of being misplaced or thrown away.
#3. Use the Right Tools to Clean Them
Cleaning your retainers is essential. With that said, the products you use matter just as much as how often you clean them. To remove plaque and bacteria from their surface, use a soft-bristled toothbrush and non-abrasive toothpaste. For optimal results, clean them each morning and evening.
#4. Avoid Using Hot Water to Rinse Them
To keep your retainers fresh, you should rinse them off each time you take them out of your mouth and before you put them back in. The key to this best practice is using cold or lukewarm water. Hot water is another element that can potentially warp their shape, compromising their ability to preserve your perfectly straight teeth.
#5. Keep Your Retainer in the Same Spot
When you store your retainers in their case, make sure to put them in the same spot every time. Even though it may take a few extra minutes, it will be well worth it. After all, the last thing you want is to misplace it, causing you to spend your valuable time and money on getting a replacement.
Your retainers may be small, but they play a large role in preventing orthodontic relapse. So, make sure to take care of them by incorporating the above tips!
About the Practice
At Super Braces of Lawrence, we don't just want to align your teeth, we want to help you keep them in their perfectly straight positions! To do that, we offer our patients custom retainers that are designed to effectively preserve your new and improved smile. If you have any questions about how to care for yours, you need a replacement, or you simply want to schedule an appointment, don't hesitate to reach out to our team via our website or by phone at (978) 794-0000.