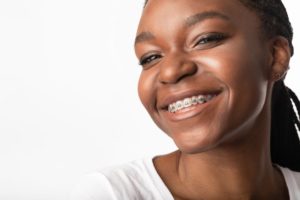 In the past, traditional metal braces were the only way to solve orthodontic issues like misaligned teeth and bites. But nowadays, you have more options than ever before thanks to treatments like clear braces and self-ligating braces! These new services offer new and easy ways to get the straighter smile you deserve. However, there are still cases where traditional metal braces are the best choice for getting the results you need. Here are four important ways that traditional braces set themselves apart from other orthodontic options.
1.) You Can't Lose Traditional Braces
There's no question that removable braces like Invisalign make it much easier to brush, floss, and eat during your treatment. However, this factor also makes it far easier to lose them as well. Whether you accidentally throw them away, leave them on a countertop, or your dog gets them while they're sitting out, there are plenty of ways you may misplace your aligners. On the other hand, once your traditional metal braces are in place, you won't have to worry about them.
2.) Traditional Braces Can Correct Severe Problems
Small issues and slight problems can be corrected with other teeth-straightening solutions. But if you're looking to fix extensive or severe orthodontic misalignment, traditional braces are almost always the best option. Metal braces are arguably the most powerful and more reliable orthodontic treatment, and they can handle nearly any case, whereas clear aligners like Invisalign can only address minor to moderate problems.
3.) You Need Less Self-Discipline with Traditional Braces
Clear braces like Invisalign boast the freedom to remove your aligners whenever you want, but with great freedom comes great responsibility. With removable clear braces, it's up to the patient to keep their treatment on track. This includes meeting the daily wear time, rinsing off the aligners frequently, and making sure you don't lose them whenever you take them out. On the other hand, aside from putting some extra effort into your daily oral hygiene routine, you don't have to worry about any of these things with traditional braces.
4.) Traditional Braces Can Be The Fastest Solution
Invisalign and other clear braces have an average treatment timeline of 12 months, but it's important to keep in mind that the more severe your misalignment, the longer it will likely take you to finish treatment. Plus, if you lose or break an aligner, or if you don't wear your aligners often enough, you'll get off track and increase the expected treatment length. Braces can move each tooth individually, so they can predictably get the results you're looking for without these potential setbacks.
Traditional metal braces have been a tried-and-true method for achieving straighter, healthier smiles for more than a decade. However, the only way to discover which type of orthodontic treatment is best for you is to schedule a consultation with your dentist!
About the Practice
Are you ready to achieve the healthy, beautiful smile you deserve? Then it's time to come visit us here at Super Braces of Lawrence! Our experienced team of professionals offers a wide range of orthodontic treatments, including traditional braces, pediatric orthodontics, Invisalign, and more. If you're interested in getting a straighter smile but don't know where to start, we invite you to see us for a consultation and we'll be more than happy to help. We can be reached online or at (978) 794-0000.