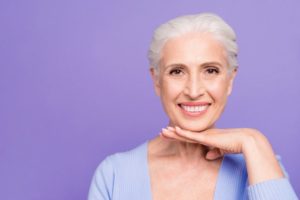 Braces are commonly associated with the teenage years, as that's when many people get them. However, if you "missed the boat" on orthodontic treatment when you were younger, there's no need to despair! The truth is, there is no upper age limit to get a straighter, healthier smile. Getting braces as an adult is becoming more and more popular, to the point where adults make up about 25% of all orthodontic patients. Keep reading to learn more about what it's like to straighten your teeth with adult braces in Lawrence at the age of 40.
How Do Adult Braces Work?
When it comes to straightening your smile with braces, the process is practically the exact same for teenagers and adults alike. Metal brackets will be bonded to the front of your teeth and tethered together by a wire, which maintains constant, precise pressure on them to guide them into the right positions. The only big difference between getting braces as a teen and as an adult is how long treatment typically takes. As an adult, your teeth and oral structures are no longer developing, making them more dense and more difficult to move. This simply means that treatment typically takes a little more time for adults than teenagers.
When Should Adults Consider Getting Braces?
The best way to tell if you should consider getting braces as an adult is to see an orthodontist for a consultation. In general, anyone with crooked teeth, gaps between their teeth, or bite issues such as an overbite or underbite should consider getting orthodontic treatment. Leaving these problems alone can cause damage to your jaws and teeth over time, so it's best to have them treated regardless of how you feel about them. You may also want to consider getting braces if you are embarrassed or feel self-conscious about how your pearly whites line up. Adult braces may be the perfect option to help you achieve a smile that looks and feels its absolute best.
What Options Do Adults Have for Braces?
Thanks to modern advancements in orthodontics, there are more ways than ever for adults to achieve straighter, healthier smiles. Traditional metal braces are one of the most popular options for patients over 40 thanks to their reliability and ability to address a wide range of issues. There are also self-litigating braces, which use ceramic, tooth-colored brackets for a more discreet appearance. Their unique mechanism also allows for fewer orthodontic checkups, which is ideal for a busy lifestyle. Additionally, clear braces like Invisalign are an excellent option for many adults as well, since these removable aligners can blend into your lifestyle and appearance.
You're never too old to get a straighter smile! If you're interested in correcting your crooked teeth or misaligned bite, then it's time to schedule a consultation with your orthodontist to see if adult braces are right for you.
About the Practice
Our team here at Super Braces of Lawrence is proud to offer families all the orthodontic care they need under one roof. From pediatric orthodontics to adult braces and everything in between, we offer treatment options for every stage of life. If you are wondering if braces are right for you as an adult, we would be happy to meet you for a consultation to discuss your options. Give us a call today at (978) 794-0000or visit us online to schedule your next appointment!